WorkSafe Victoria Recognised Asbestos B Class Removalist Course for Operators*
Duration: 8 hours
Aim: The Asbestos Class B Removalist course has been recognised by WorkSafe Victoria and provides participants with the knowledge and practical skills to safely remove non-friable asbestos containing materials for a Victorian licensed asbestos removalist company. Participants will receive a certificate of attendance on satisfactory completion of this course as evidence of their training.
Learning Objectives: This course will give participants a basic understanding of asbestos hazards, health effects and control measures to minimise risks to themselves and others involved with the removal of asbestos containing materials. Furthermore, participants will gain the knowledge required to safely and efficiently remove non-friable asbestos products.

Key Areas Covered:
Planning, Preparation & Undertaking Removal of non-friable Asbestos
Introduction to asbestos;
The health effects of asbestos;
OHS Regulations 2017;
Identification of asbestos;
Understand historical uses and potential sources of asbestos in the workplace with examples;
Conducting risk assessments;
Understand risk assessment approaches, asbestos registers and asbestos management plans;
Procedures for working with asbestos;
Procedures for decontamination;
Disposal of asbestos;
Personal Protective Equipment (PPE);and
Practical removal exercise; and
Competency test.
Pre-requisites: None
Target Audience:Those seeking to remove non-friable asbestos in Victoria only; whilst working for a Licenced Class B Removalist.
Equivalent Nationally Recognised Course: CPCCDE3014A Remove non-friable asbestos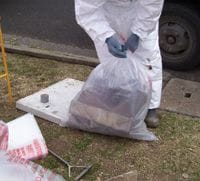 This course can also be run just for you at your workplace.
If you are interested you can contact us on 1800 429 266 or on email: training@hazcon.com.au
*Note: This course is WorkSafe Victoria Recognised. Please refer to HAZCON's Nationally Accredited CPCCDE3014A - Remove non-friable asbestos training course.