Health and Safety in the Office Environment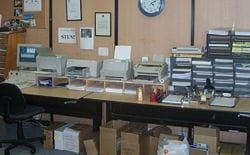 Duration: 4 hours
Aim: This training course will help participants to understand the health and safety risks of office-based work. While working in an office may seem relatively safe and healthy, there are many injuries that can occur in this environment. It will explain what can be done from a risk management perspective to make the office environment safer and healthier.
Key Areas Covered:
Health and safety legal framework
Duty holders and duties
Consultation and communication
Risk management of typical office hazards such as

Manual handling and ergonomics
Plant and equipment
Slips/trips/falls
Working environment
Psychological harm
Noise
Chemicals
Fall from heights
Storage
Electricity
Fire
Target Audience: Managers, supervisors and all personnel working in an office environment.
This course can be conducted 'in house' at your company's premises or at HAZCON's specialised training facilities in Trafalgar or Notting Hill.
We will be happy to discuss your requirements and prepare a quote for you, you can contact us on 1800 429 266 or email: training@hazcon.com.au