Cooling Tower Audits
Does your current Risk Management Plan address the five critical risk factors for the control of Legionella in the Cooling Tower System?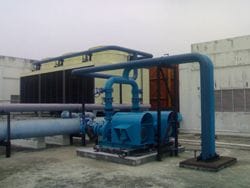 These risk factors are:
Stagnant Water
Nutrient Growth
Poor Water Quality
Deficiencies in the Cooling Tower System
Location & Access to Cooling Tower Systems
Addressing these risks will significantly reduce the likelihood of the cooling tower system contributing to an outbreak of Legionnaire's disease. HAZCON can help you to prepare a new or updated Plan, or alternatively, have your current Plan audited.
The Department of Health & Human Services requires that Cooling Tower Risk Management Plans be audited annually before registration is due due to the risk of Legionella. Failure to register your cooling tower, prepare a Risk Management Plan, or have it audited, can result in heavy fines.
HAZCON has a number of Accredited Auditors who can quickly and efficiently audit your Cooling Tower Risk Management Plan.
If you are interested in this service, require a quote or advice contact us.