Health, Safety and Evironmental Consulting
HAZCON provide a large range of Health, Safety and Environmental Services. These include:
NATA Accredited Laboratory

HAZCON have a NATA Accredited Laboratory for our asbestos air monitoring and sample identification services.
Our NATA accredited asbestos laboratory facilities were developed to provide a quality asbestos air monitoring and identification service using our own personnel.
More information: asbestos services or asbestos training courses
Third Party Accreditation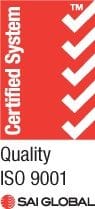 To help ensure customer satisfaction, HAZCON Pty Ltd believes in the principles of third party accreditation. To this end HAZCON has achieved accreditation or recognition in a number of areas.
HAZCON is a Quality Endorsed Company with a Quality Management System accredited to AS/NZS ISO 9001:2008.
We have a number of staff registered as OH&S Auditors with Exemplar Global Certified Auditors. You can be assured that our personnel are competent to undertake audits in your workplace to international standards of best practice.
Please contact HAZCON for more information.