Are you looking to improve your organisation's leadership and management skills? Why not start by improving your team's problem solving and decision-making capabilities?
StepUp Leadership and Management (StepUp LM) is working in partnership with HAZCON and is now delivering three new (non-OHS) training courses.
This Blog is focussing on the Problem solving and decision-making training course. As a HAZCON client we are pleased to offer you free places on this and other upcoming training courses as part of an introductory offer.

Creative Problem solving and decision making (a one-day course)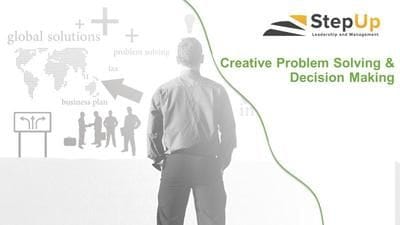 This training course uses the following class-based delivery methods:
Self-discovery and critique;
Group exploration and facilitator led discussions;
Game based learning;
Practical activities; and
Best practice theory exploration.
Overview:
This highly interactive workshop introduces a variety of creative solution generation and decision-making techniques. Participants will develop the skills necessary to analyse a problem, generate creative solutions, and decide which solution most closely matches their needs.
After practicing the new tools and techniques, participants will apply them on an interesting case study that is revisited during the day.
Course objectives:
By the end of this training course participants will be able to:
Apply logical tools to properly analyse problems for root causes;
Establish and compare options in a variety of situations;
Identify the best choice from various options and address group think;
Achieve group consensus about important decisions;
Apply a four-step process to systematically solve problems and decide on appropriate solutions;
Use methods and tools (systematic process and fishbone diagramming) to discover the underlying cause of a problem;
Use brainstorming, mind mapping, and several other creative thinking techniques to generate possible solutions to the problem;
Use the following decision-making techniques: Pro/Con, Force Field Analysis, Decision Matrix, Feasibility/Capability Analysis, and Cost/Benefit Analysis; and
Create an action plan to implement the appropriate solution.
Other courses that StepUp LM are now delivering are as follows:
Further details are available by either clicking the above links for each course or from the StepUp LM website
StepUp LM training courses are developed to impart real world skills, tools and frameworks. The training is appropriate for:
People managers, line managers and supervisors;
Teams and work groups aiming for a more dynamic and effective work environment; and
Business professionals who want to develop practical skills and approaches to problem solving, creative idea generation and utilise decision making tools.
The courses will be held at HAZCON's training facilities in Notting Hill and Trafalgar.
| | | |
| --- | --- | --- |
| Course | Date | Location |
| Building High Performance Teams | 20th March | Notting Hill |
| Problem Solving & Decision Making | 12th April | Trafalgar |
| Managing People | 17th & 18th April | Trafalgar |
| Building High Performance Teams | 2nd May | Trafalgar |
| Problem Solving & Decision Making | 22nd May | Notting Hill |
| Managing People | 27th & 28th May | Notting Hill |
| Problem Solving & Decision Making | 4th June | Trafalgar |
| Building High Performance Teams | 19th June | Notting Hill |
| Managing People | 2nd & 3rd July | Notting Hill |
Please register your interest for free training by emailing your contact details to training@hazcon.com.au.